SUPER AIR NAUTIQUE G25
THE ULTIMATE CROWD PLEASER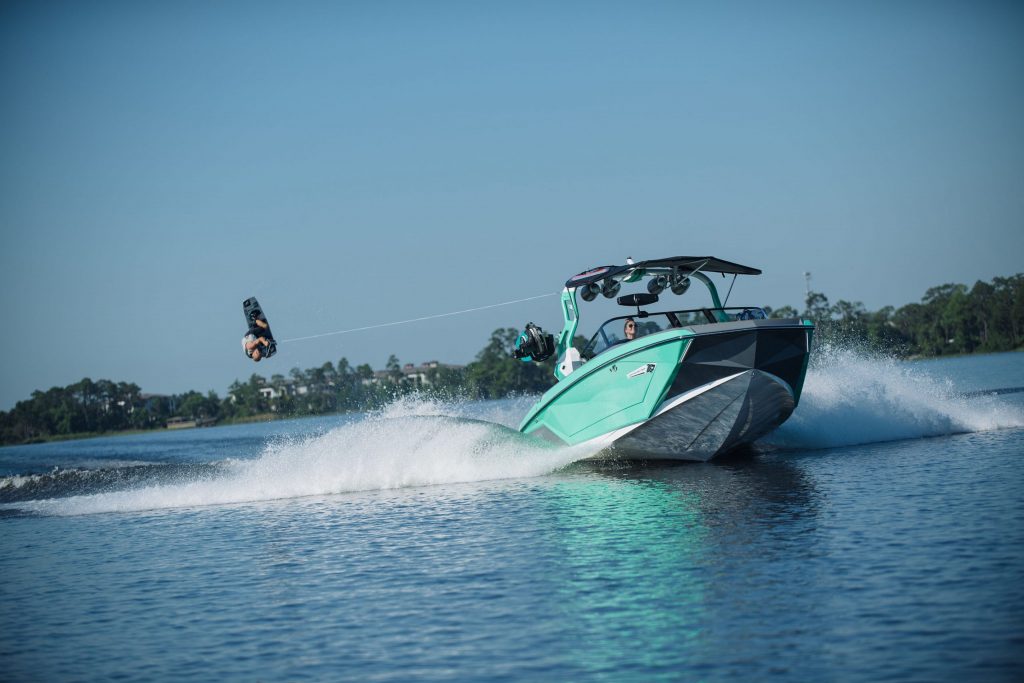 Leave nothing at the dock and bring the whole crowd with a boat to handle big water and every activity. We have taken our game changing G-Series hull design and gone even bigger with a twenty-five foot boat that leaves compromise on dry land. The Super Air Nautique G25 delivers a next generation wake for wakeboarding and produces a massive wakesurfing wave like nothing you have ever seen before. The G25 gives you the space, performance, and wake to give your audience a show that can't be delivered behind anything else.
G-SERIES PERFORMANCE AND STYLING
The G25 is the largest boat in our line with room for nineteen people and more storage than any boat of its kind. The increased size puts more hull surface in the water for a huge surf wave that is open, long, and clean along with the G-Series wakeboard wake that has forever changed the sport. The all-new Nautique Configurable Running Surface (NCRS) fine-tunes the hull surface under any condition using the latest technology in our Nautique LINC system. With over 2,800 lbs. of sub-floor internal ballast, the G25 eliminates the need for additional weight offering maximum ballast with maximum storage and a world class wake. Every inch of this hull was designed to create a wake that will work for every level of riding, at any speed and line length. This allows you to set the boat up to the preferences of every rider in the boat without sacrificing a clean lip, long transitions, and solid pop.The cutting-edge design doesn't stop at the water line. The styling and craftsmanship that has gone into designing the interior of this boat is like nothing that has come before it. From the ergonomics of the seats to the functionality of the seating configurations, every aspect of the fit and finish was designed with your perfect day on the water in mind.
Lunghezza imbarcazione
25′ / 7.62 m
Lunghezza con plancetta
27′ 3″ / 8.31 m
Distanza anelli di sollevamento
23′ 6″ / 7.2m
Larghezza
102″ / 2.59 m
Pescaggio
31″ / .79m
Peso approssimativo a secco*
6.400lbs / 2,903 kg
Capacità serbatoio
83 Gallons / 314.2 l
Portata Massima
10 People / 2,800 lbs / 1,270 kg
Potenza installabile
ZZ6 – 450 HP / ZR7 – 475 HP / ZZ8 – 600 HP / 8LV 370 – 370 HP (diesel)
Riduzione del cambio 
2.0:1 – 1.481 (8LV + ZZ8)
Capacità ballast
2,200 lbs / 998 kg
* il peso può variare da motori e allestimenti installati.